Plovdiv Baby Orphanage
Number of Children:
115
Ages:
0 - 3 yrs
Special Projects Available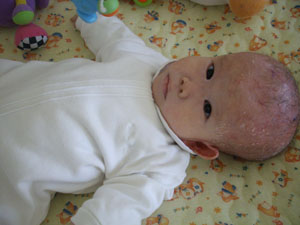 Our first involvement with this baby orphanage came after we received requests for hydrocephalous shunts for three of these children. These were provided and all surgeries were successful. In addition, the director requested funding for an intraocular lens for an infant girl who was suffering from multiple health problems and who is still being cared for at this facility. (See picture.) After three years of providing medical care, we now have a sponsorship to fund some of the other critical needs.
This orphanage is visited monthly. Our field director has a very open and cordial relationship with the director who understands our goals to provide funding for better nutrition and needed medicines as well as caregivers. Until recently, this facility was sponsored by many organizations that provided as many as 20 caregivers (babas).
At this time they have only 10 babas that can assist the staff with feeding, nurturing and caring for the children. This is grossly inadequate considering that twenty-four of these children have disabilities and require special care and attention.
Our efforts are currently focused on the needs covered by a sponsorship which will include hiring babas and pre-school teachers to provide more nurturing and mentoring. Please consider funding one of the desperately needed projects listed below.
Plovdiv Baby Orphanage Special Projects
Diaper Funds: Cost: $200/month
Powdered milk and food: Cost: $160/month
Medications: Cost: $180/month
Teachers for activities: Cost: $110/month each
Babas: Cost: $90/month each
Washer and dryer: Cost: $1,500