How we help
---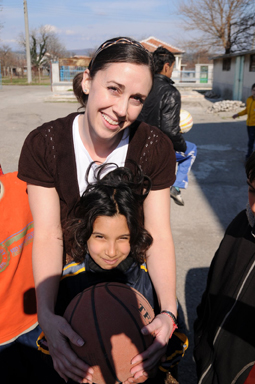 One Heart Bulgaria is unique in its ability to serve the Bulgarian orphans. We begin by building strong relationships with the orphanage directors. These men and women have a great deal of influence over the day-to-day life of the children under their care. We become partners with them in providing the most efficient help possible, tailored to fit the children's specific needs.
Because we design each sponsorship and special projects to match each orphanage, we are able to be flexible when emergencies arise. One winter, for example, we were asked by the Ministry of Child Protection to provide heating fuel for a remote orphanage. A sponsor was quickly found and the necessary funds were sent to the orphanage, helping them get through a particularly difficult winter. That sponsorship continued throughout the year and has developed into a wonderful relationship.
Each member of the board and all members of our operations team have a strong connection to Bulgaria and deep interest in the orphanages we sponsor. Several members of the board have personally visited the orphanages and interacted with the children. The compassion we feel for these children is heightened by the fact that we know them—we have seen, held, cuddled, and played with almost every child in the orphanages we sponsor. This is a tradition that we will definitely continue.
One Heart Bulgaria is interested in providing long-term solutions for the problems in these children's lives. We support and encourage self-sustaining projects and look for ways to help the orphanages help themselves. One such project we are trying to develop is a sewing co-op in the teenage orphanages. With this program teenagers in the orphanages would learn about textiles and gain valuable sewing experience for possible jobs in the future upon their release onto the streets at eighteen. A sewing co-op would also bring in some revenues for their orphanage. Another similar project includes an orphanage bakery set up on the orphanage grounds where the orphans could learn about baking, business management, entrepreneurial skills, social skills, and gain self worth. Again, this program would bring in revenue for participating orphanages as local citizens in the community purchase baked goods.
One Heart Bulgaria is also helping to save the lives of many orphan babies suffering and dying from hydrocephalus through our Hydrocephalus Program. Under this program, babies and young children can receive operations and return home to their parents who were once helpless to take care of them.
Orphanage Worker training is an important part of One Heart Bulgaria's goals for the future. We encourage orphanage workers to participate in job training that will help them learn skills necessary to provide focused, loving care to the children they interact with every day, regardless of age or ability.
One Heart Bulgaria also has an Internship Program so that loving, qualified, Bulgarian-speaking individuals can go live in the orphanages for a period of time and directly impact the lives of the children they work with.