Fundraising
Fundraising: Ideas and Opportunities!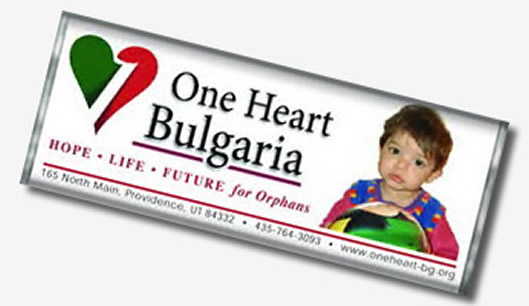 One Heart Bulgaria has designed its own delicious chocolate bar! This is a fun item for kids and teens to sell door-to-door or at their lemonade stands, or for parents to display at their work place and take donations. The bars come with our special label that includes information about One Heart Bulgaria as well as a sweet picture of a Bulgarian orphan (labels are provided). This is a great way for us to get the word out about the organization and bring in additional funds to help further our programs for the Bulgarian orphans.
The crispy rice chocolate bar is 2.25 oz and sells for a donation of $3 each.

Proceeds and donations from candy bar sales should be mailed to:
One Heart Bulgaria
561 N. 150 W.
Centerville, UT 84014
How to order:
For more information, or to order cases of chocolate bars and labels at cost please contact Karol @ oneheart@oneheart-bg.org or @  435-752-0757.


We are grateful for all the young kids, teenagers and their parents who contact One Heart Bulgaria with the desire to help the Bulgarian orphans in whatever way they can.  These kids can have a powerful impact with fundraising efforts and truly make a difference for the Bulgarian orphans. In addition, the kids and their parents find that these projects change their own lives—invoking feelings of gratitude for their own abundant lifestyles; empowerment to make worthwhile changes in the forgotten corners of the world; and charity as they work hard to sacrifice for the unfortunate.
Recognition on "Kid Power" is our way of saying  "thank you" to the groups of kids who have implemented either their own fundraising ideas or that of One Heart Bulgaria in order to help the Bulgarian orphans.
Some of these kids or teenagers were former Bulgarian orphans, now living with their adoptive families here in the USA. They take great interest in helping the Bulgarian orphans who were not as fortunate as they and remain left behind in orphanages.  Others, are the children of parents who either served LDS missions in Bulgaria or who are current members of the One Heart Bulgaria organization and share their parents same enthusiasm for humanitarian work on behalf of Bulgarian orphans.  Still others kids featured here simply heard about the conditions the Bulgarian orphans live in and wanted to contribute in whatever way they could. Here are their projects and stories …
If your kids have a story and pictures they would like to share about their fundraising project or service project for the Bulgarian orphans, please contact us at oneheart@oneheart-bg.org